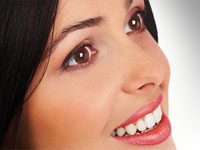 If you have dark colored teeth, cracks or other unsightly tooth problems, Phoenix cosmetic dentistry by Brett Dameron, D.D.S. can help. Ask us about veneers and teeth whitening and how we can maximize your dental insurance. We also provide teeth whitening, braces and dental implants.
Your dental makeover will make you feel proud to show your smile. Whether you need porcelain crowns, dental veneers or other cosmetic solutions, our professional team can help you choose the best option for your individual needs.
For quality Phoenix cosmetic dentistry, call Dameron and Team at (602) 992-1384, or use the easy form on our website. Let's set up your appointment. We're ready to create your stunning new smile!